The 2021 Subaru Love Promise Customer and Community Commitment Award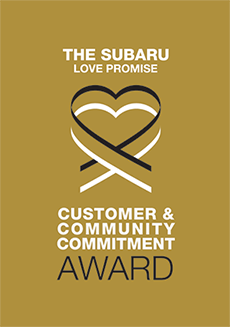 We've been nationally recognized for our dedication to our customers, our community, and the Subaru Love Promise.
We're honored to receive the 2021 Subaru Love Promise Customer and Community Commitment Award. This award nationally recognizes elite Subaru retailers who provide an exceptional customer experience at every interaction with Subaru. These retailers have also demonstrated an outstanding commitment to supporting passions and causes in their local communities in important areas such as the environment, community, health, education, and pets.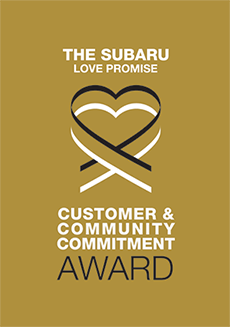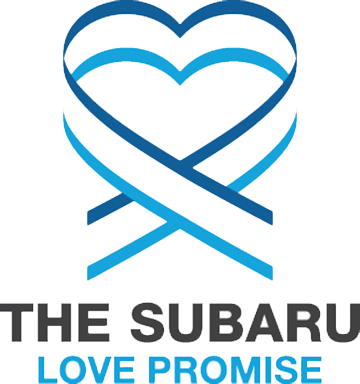 What is the Subaru Love Promise?
Subaru and our retailers believe in making the world a better place and the Subaru Love Promise is our vision of respecting all people. This is our commitment to show love and respect to our customers and to work to make a positive impact in the world.
How is Subaru White Plains dedicated locally to the Love Promise?
At Subaru White Plains, we believe the success of our business is directly tied to investing in our community and our people. Love Promise is the perfect platform for us to do both. Our Love Promise can be seen in various partnerships with local charities and non-profits. We're grateful for the opportunity, not only to be a part of our community, but to serve it as well.
Maria Fareri Childrens Hospital
Love Promise Stories from Subaru White Plains
Subaru and Subaru White Plains believe in making a positive impact on the communities in which we live and work. We uphold that belief through our Love Promise Community Commitment. Every month, we select inspiring stories from customers and partners from around our area who strive to support our collective commitment and feature them here
Giving back to the Community - Melissa T
The Premier Collection Subaru is always willing to give back to the community. They have partaken in book donations to local schools, and sponsored local events that are fundraisers to the community.
---
Helping the Children - Gina C
For the third year in a row, Subaru White Plains has named Maria Fareri Children's Hospital as its Hometown Charity for the Subaru Share the Love event. We are enormously grateful to everyone at Subaru White Plains, a member of The Premier Collection, for this incredible partnership. The last two years have raised more than $100,000 for Maria Fareri Children's Hospital and we are excited at the prospect of what 2020 can bring. These funds help us as we continue to provide lifesaving care for the most critically ill and injured children in our region. Our heartfelt thanks and appreciation go to Subaru White Plains, The Premier Collection, and all those who purchase a new vehicle from this dealership during the Subaru Share the Love campaign. Your kindness and thoughtful generosity support us as we ensure the health and wellbeing of our pediatric patients today, tomorrow and always. Thank you! From, Your Friends at Maria Fareri Children's Hospital
---
Generosity & Friendship - Amy P
I am writing to express how grateful we are for the donation of wonderful Subaru blankets for the women in our Women's Residence. The generosity and friendship showed to us by Subaru White Plains lifted us up and provided comfort for women ages 20-90 that are working to make a better life. This kindness, part of the Subaru Love Promise program, truly demonstrates Subaru's commitment to community. We truly appreciate your care for the women at the Residence. As we discussed, our Women's Residence is the largest supportive housing residence in the state of New York, and the only one in Westchester County. Here are words recently shared by one of our residents: "I have a life again. I'm not lonely. I'm not hungry. I have a comfortable place to live, I have beautiful support, I have plenty of food and clothes on my back. I can afford to pay my rent. My day isn't about survival anymore. My day is about living my best life. Happiness is my reality again." We enjoyed meeting you and members of your team, and we look forward to inviting you to visit and tour the Residence when the pandemic allows. Warmly, Amy Price Chief Development Officer
---
"Fall In Love" Partnership - Paws Crossed Animal Rescue J
Subaru White Plains and Paws Crossed Animal Rescue partnered during October 2020 for 'Subaru Loves Pets' month. Subaru White Plains generously pledged $100 every single day of the month for one orphaned dog or cat that was adopted. This incredible funding will go towards the direct comfort and care of our pets and in preparing them for their forever home. This includes veterinary visits (spay/neuter and major surgeries), medicines, vaccines, microchips, food etc… We shared a really fun, lifesaving, month together with our friends at Subaru White Plains: (1) We had 67 adoptions! 67 forever homes and new families! Incredible! (2) We did a "Fill the Subaru" supply drive. On October 31 – November 1 we asked people for donations of pet food and supplies. The supplies that were donated will not only be used for our rescue pets, but they will also assist with our Community Kibble Program; the purpose is to help keep companion pets in their homes and out of the shelter system by providing assistance to families that are having financial troubles. Now more than ever, this program is so important to our community. (3) We partnered on a Good Morning America spot on Oct 22nd, 2020 for #MakeADogsDay highlighting some of our beautiful pups! The attached photo is of beautiful Cleo who was one of the pups highlighted on the Subaru's Underdog segment for the 2nd Annual Make a Dog's Day on Good Morning America. Our Cleo came from a destructive home setting in Georgia. The woman that surrender her and her two babies said they had belonged to her boyfriend, and when he moved out, he left the dogs with her. She was unable to take care of this adorable family. She said that the boyfriend was continuously verbally abusive (to both her and the pets) and Cleo was terrified of him … and in turn, most people. Paws Crossed volunteers and staff worked non-stop with her to prove to her that people can be good and to improve her comfortability and confidence. She has come out of her shell and is a sucker for a yummy treat! Through patience, consistency and LOVE LOVE LOVE this little girl found her forever family and is much adored. PS: She also loves her Subaru toys! THANK YOU! From everyone and every single orphaned pet at Paws Crossed, THANK YOU for always being a partner in our mission to "Rescue One By One Until There Are None". We are very grateful to Jeremy Abramson and his incredible team at Subaru White Plains for their continuous graciousness, support and community engagement with Paws Crossed … and beyond! Your impact is always so encouraging and inspiring! #WeAreFamily #TodayTomorrowTogether #BeTheirHero
---
Bringing Warmth and Love to Cancer Patients! - Daniela V
Westchester Subaru and The CTWHV Chapter of the Leukemia & Lymphoma Society (LLS) have partnered to make a difference in the lives of children battling cancer in the White Plains community. The partnership called Subaru Loves to Care provides warm blankets, kids' craft kits and loving messages of hope and inspiration written by Subaru customers to patients fighting cancer at Maria Fareri Children's Hospital. HUGE Thank you to Westchester Subaru for donating 80 beautiful blankets and 30 craft kits to Maria Fareri Children's Hospital to spread warmth to their patients. Patients are in the infusion center for hours at a time and these blankets keep them warm as they are going through treatments. The craft kits are a way to help patients and family members keep busy while they undergo treatment. We were lucky to meet Carmen who is a patient at the Maria Fareri Childrens Hospital and was on her way in to receive treatment. The excitement we saw that day and as you could see in the picture was priceless. This little girl touched all of our hearts and it was nice to get to know her and how she was appreciative for the blanket and excited for the craft kit. Thank you Carmen for making this delivery by far the best delivery! On behalf of LLS and everyone fighting or in remission from cancer and the people who love them, huge and heartfelt thanks to Westchester Subaru and the entire Westchester Subaru family for joining the LLS mission to create a world without blood cancer.
---
Love Promise Delivery - Daniela V
This is our second year partnering with Westchester Subaru to spread the hope, love, and warmth to patients to the Maria Fareri Children's Hospital. We were lucky to have blankets and craft kits to spread to the patients. This hospital is a beautiful facility and the craft kits are wonderful for the children that cannot come out to do activities. They are in the infusion center for hours and with the blankets it keeps them warm and the kits keep them busy. This hospital was especially grateful to have us chose them as a hospital since the children last year enjoyed the blankets and kits!
---
Love Promise Delivery - Daniela H
On July 27, 2017 LLS staff member Daniela Hincapie met with Sales Consultant Andrea Kadlec of Westchester Subaru (Elmsford, NY), to deliver 12 craft kits, 80 blankets and messages of hope, to Bennett Cancer Center. We felt honored to have worked on this lovely campaign with Andrea for the second year in a row. Andrea is a two time cancer survivor herself. Working with her and hearing her story was a true inspiration. They were greeted by Liz Manfredo and Barbara Haggerty and a few other of the staff at the facility who were very grateful for the donation to their patients. The blankets provide much needed support and "warmth" to patients fighting cancer. Liz and her team were thrilled to see all the boxes of blankets that were going to be handed out to patients. To see how overjoyed they were with this thoughtful donation was very rewarding. The blankets are aimed to provide "warmth" to cancer patients undergoing treatment and we could not have found a better home for them! Huge thank you to Westchester Subaru for making this possible and having a big impact in their community!
---
Subaru and NWF Love the Earth! - Tracey W
3rd graders were so excited to be nature rangers planting and protecting their school habitat. Children were able to dig, plant and water donations given by a local Subaru dealer. The project helped make learning concrete and teach scholars that good community citizens take care of the environment.
---
Local Subaru delivers "warmth" to cancer patients - Courtney R
The Leukemia & Lymphoma Society was honored to have Andrea, Westchester Subaru Sales Consultant, join us for the Subaru Love Promise care package delivery to White Plains Hospital Center for Cancer Care. We were greeted by Dr. Una Hopkins, Administrative Director of the Dickstein Cancer Treatment Center, who was overwhelmed with gratitude when seeing the amount of care packages we had for her to distribute to her patients. She was gracious enough to take us on a tour of the newly redesigned Cancer Center, aimed at creating a comfortable, peaceful, healing space for their patients. From the massage therapy rooms, knitting nook, healthy snack area, and so on, these blankets - aimed at providing "warmth" to cancer patients undergoing treatment - could not have found a better home. A huge thank you to Westchester Subaru for all of their support, and generous donation of the care packages!
---